24-Hour Home Care For Seniors After Surgery
If your senior parent has recently had surgery and will be returning to their home you should consider 24-hour home care services. Even if it's just temporary until your senior loved one has fully recovered from their surgery they should have 24-hour home care so that someone is always with them.
There are a lot of things that seniors can experience after a surgery that can require medical help, and if your senior loved one is alone they may not be able to summon help when they need it. They also may hurt themselves trying to get around the house or do normal tasks so soon after surgery.
A few of the reasons why seniors need 24-hour home care after surgery are:
Bathing And Dressing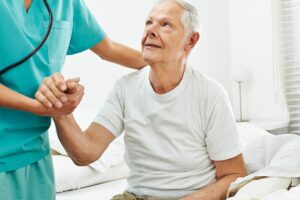 Your senior loved one is probably going to need help with cleaning up and getting dressed. With home care someone will be there to help them get to the bathroom, make sure they are cleaned up, help them wash their face and brush their teeth, and if they are able to get dressed a care provider can help them get dressed. Being able to do these tasks will help your senior loved one feel better and maintain their hygiene.
House Cleaning
Your senior loved one should not be doing any kind of house cleaning or laundry after they have had surgery but those things still need to get done. Home care will assist your senior loved one and make sure that the home is clean and sanitary. They can also do light laundry to make sure that your senior loved one has clean towels, sheets, and blankets as well as clean clothes.
Meal Preparation And Clean Up
It's very important that your senior loved one to eat healthy meals to get their strength back and give their body what it needs to heal. But your senior parent probably won't be doing a lot of cooking right after surgery. A 24-hour home care provider can take care of meal planning and preparation. They can serve the meal and make sure that the clean-up is taken care of. And a care provider can also do the shopping, pick up the mail, and run errands that your senior loved one just isn't up to doing yet. If your senior parent needs medications from the drug stores or wants something special the care provider can make sure they get those things.
Incision and Health Monitoring with 24-Hour Home Care Aides
After surgery, it's important to keep a close watch on any incisions or stitches. Any sign of infection and your senior loved one's doctor needs to be notified immediately. With 24-hour home care, there will always be someone close by to keep tabs on your senior loved one's health. If your senior parent needs help immediately a care provider will be there to get it for them. And if they notice that something looks off they can call the doctor to make an appointment and make sure your senior loved one gets to that appointment.
If you or an aging loved one are considering 24-Hour Home Care Services in the Independence MO area, please contact the caring staff at Elder Care of Kansas City, today. Proudly serving Jackson, Clay, Platte, and Cass Counties in Missouri as well as Johnson and Wyandotte Counties in Kansas for over 30 years. Call us at 816-333-3322.
Latest posts by Kevin Edwards
(see all)