5 Ways to Help a Senior Eat Healthy on a Budget
It's not always easy for family caregivers to help their older family members to eat a healthy diet. That can be especially true when the senior is on a budget that limits how much they can spend on groceries. Let's face it, eating healthy can often be more expensive than purchasing processed foods for which there are usually coupons and sales available. Believe it or not, it really is possible for seniors to stick to a healthy diet even when money is tight.
Below are 5 suggestions offered by the American Heart Association for eating well on a budget.
1: Eat Less Red Meat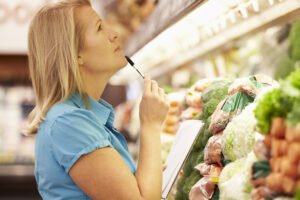 Red meat tends to be one of the more expensive sources of protein. It's also not as healthy because of its saturated fat content. Consider swapping out a few meals that use red meat for ones that use healthier and cheaper sources of protein. Some other good sources of protein are fish, poultry, legumes, beans, and nuts.
2: Choose Frozen Produce
While caregivers may be focused on fresh, whole ingredients for their aging parents, it's perfectly okay to use frozen fruits and vegetables. They are usually just as healthy as their fresh counterparts. It's important to check the ingredient list, though, to be sure no sugar or salt has been added. In addition to being cheaper, frozen produce is often easier to prepare since the cleaning and cutting steps are eliminated.
3: Start Gardening
Gardening is an excellent form of exercise for older adults because it involves digging, bending, and lifting. In addition, it's a very inexpensive way to put fresh produce on the table all year long by learning how to freeze or can excess produce that can't be eaten while it's fresh.
4: Create Prepackaged Snacks
While single serving bags of snacks are easy for seniors to grab and eat, they are paying for the convenience of the individual packaging. Caregivers can save older adults some money on these kinds of snacks by purchasing some snack-sized bags and packaging food on their own. For example, buy a larger container of unsalted nuts and divide them into handful-sized portions.
5: Make a Weekly Meal Plan
Having a plan and a grocery list before going to the grocery store saves money by avoiding impulse buys and return trips to the store for missing ingredients. Caregivers don't have to strictly stick to the order of the meals on the weekly menu. Feel free to move Monday's meal to Wednesday if it's a quick one and you have other commitments on Wednesday. The menu just ensures the senior has enough meals for the week.
Source: https://www.heart.org/en/health-topics/diabetes/prevention–treatment-of-diabetes/how-to-eat-healthy-on-a-budget
If you or an aging loved-one are considering Caregiver Services in the Independence MO area, please contact the caring staff at Elder Care of Kansas City, today. Proudly serving Jackson, Clay, Platte and Cass Counties in Missouri as well as Johnson and Wyandotte Counties in Kansas for over 30 years. Call us at 816-333-3322.
Latest posts by Kevin Edwards
(see all)