Older adults may be shocked to find that they're suddenly dealing with anxiety, especially if it's never been an issue at any other time. Anxiety is something your senior can conquer, especially if you can figure out what the trigger is for her.
Symptoms Aren't the Same for Every Person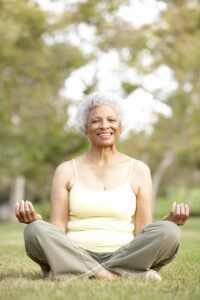 There's a misconception that anxiety looks the same for everybody, and it really doesn't. There are people with anxiety who experience shakiness, nausea, and cold sweat while other people simply feel odd. Some other symptoms could be insomnia, shortness of breath, dizziness, and heart palpitations. If your loved one has significant health issues, it can be really easy to dismiss some of the anxiety symptoms she has as being part of those more severe health issues.
There Isn't Always a Cause
Some people have a distinct reason for anxiety. For instance, your senior could be in a car accident and then feel anxious about driving. But anxiety doesn't always make sense, unfortunately. Your elderly family member could start experiencing anxiety for seemingly no reason at all. This makes it difficult to deal with on an emotional level, because your elderly family member may feel as if she should "just stop" feeling that way. But it's not something she can turn on and off.
She Might Do Well with Lifestyle Changes
There are some lifestyle changes that people with anxiety tend to do well adopting. For instance, she might take up yoga or meditation. Or your elderly family member might start paying more attention to her diet, eating healthier foods on a daily basis. Getting plenty of sleep and adopting hobbies she enjoys can also help. None of these are bad ideas in general, but they may or may not help her with her anxiety.
Bring Her Doctor in on the Problem
Talk to your senior's doctor about what she's experiencing. If the anxiety is related to an underlying health issue, treating that health issue can often resolve the anxiety, too. There may be other solutions that her doctor can suggest that can help. If your elderly family member is planning to start an exercise routine, she will definitely want to clear that with her doctor first.
Finding the right answers for your elderly family member's anxiety isn't necessarily easy, but it's worthwhile. Having help from home care providers may be something else that helps your senior. She can relax a bit more and rely on someone else to handle some of the tasks she might normally handle. That can free up time and energy for her to focus on her health.
If you or an aging loved-one are considering Home Care Services in the Independence MO area, please contact the caring staff at Elder Care of Kansas City, today. Proudly serving Jackson, Clay, Platte and Cass Counties in Missouri as well as Johnson and Wyandotte Counties in Kansas for over 30 years. Call us at 816-333-3322.
Latest posts by Kevin Edwards
(see all)