Caring Doesn't Have to Be Harder for the Sandwich Generation
The Sandwich Generation has a family at home that needs their attention and care. They're also in the position of caring for an older adult at the same time. It's difficult, but there are ways to eliminate the difficulty and make it work well for all parties.
Leave Time for Self-Care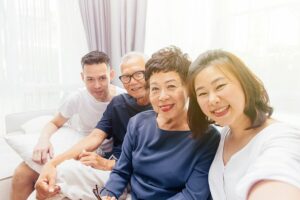 The most important part of caring for family members is self-care. You cannot devote every second of your day to others without ever stopping to take a moment to yourself. Self-care is essential.
Ideally, you want an hour to yourself each day. You can spend that hour working out, reading a book, taking a bath, or meditating. Take that hour and enjoy a favorite hobby. Not someone who's explored having a hobby? Try something new. You could learn to paint, take photos, or learn how to crochet.
In addition to having time for yourself, self-care includes taking care of your physical, mental, and emotional health. If it's been years since you've been to the doctor for a check-up, schedule the appointment now. Answer questions about anxiety and depression honestly. Your doctor may recommend you see a therapist or join a support group to help you work through your stress and angst.
Work Together as a Family
Hold a family meeting and discuss what your parents need. Everyone needs to give an honest estimate of how much time they have available to help out. From that, build a care plan that has everyone chipping in.
Involve your children. They may not be able to help with some tasks, but even small children can help fold laundry, feed the pets, bring snacks to their grandparents, and help wipe the dust from surfaces.
With others sharing care tasks, there's more time for each family member to also have time for work, children, and self-care needs. You also all gain more time to take care of your own household chores and maintenance.
Arrange Respite Care
Respite care is an important part of a family's care plan. You can be there for your parents, but you also need to focus on yourself from time to time. Balance the help you give with respite care from a homecare agency.
Some people have mistaken ideas of what respite care is. It's simply a way to take a break from time to time. Instead of leaving your parents alone 24/7 while you take that break, professional homecare aides stop by to lend a hand and provide companionship. Call our homecare agency to set up respite care services.
If you or an aging loved-one are considering Homecare Services in the Independence MO area, please contact the caring staff at Elder Care of Kansas City, today. Proudly serving Jackson, Clay, Platte and Cass Counties in Missouri as well as Johnson and Wyandotte Counties in Kansas for over 30 years. Call us at 816-333-3322.
Latest posts by Kevin Edwards
(see all)