Eight Ways Smoking Cessation Improves Your Dad's Health
November 19th is the day of the Great American Smokeout. Your dad's a smoker. He's smoked for most of his adult life. Now is the perfect time to quit. When he does, these are eight of the many benefits to his health.
Blood Pressure Readings Drop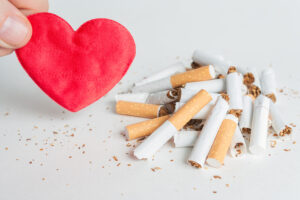 Smoking increases your blood pressure. Once your dad quits, it takes just 20 minutes for his pulse and blood pressure to decrease.
Carbon Monoxide Levels Drop
When you're a smoker, carbon monoxide gets into your bloodstream. Once you stop smoking, carbon monoxide levels drop to normal within 12 hours.
Circulation Improves
Smoking constricts the blood vessels. After quitting, it takes up to three months for circulation to improve. Lung function and circulation start showing signs of improvement within two weeks.
Within nine months, your dad's shortness of breath and smoker's cough decreases because of improved lung function. Your dad will find it easier to exercise in just a few weeks.
Foods Taste Better
Smoking impacts how things smell and taste. Once your dad quits, he'll start to regain his full sense of taste and sense of smell. That allows him to taste foods without dulled senses, which makes some foods taste better.
Heart Disease Risk Lowers
Smoking increases the risk of heart disease. After a year, the risk drops by half. When your dad hits the 15-year mark since he stopped smoking, his risk of heart disease is the same as someone who's never smoked.
Lung Cancer Risk Drops
Smoking is a leading cause of lung cancer. It takes time, but after 10 years, your dad's risk of developing lung cancer drops by around 50 percent.
Risk of Stroke Decreases
Smoking impacts circulation and blood pressure. This is part of why the risk of stroke is higher among smokers. When your dad quits smoking, it takes about five years to drop his risk of stroke to the same rate as someone who's never smoked.
Years of smoking may have already impacted your dad's health. If he has a chronic health condition caused by smoking, home care services benefit him. He'll have help around his house and get to stay in the home and community that's familiar.
Vision at Night May Improve
Smoking does impact some smoker's vision. After quitting, your dad may find his night vision improves slightly.
Let home care services aides help your dad remember to take his medications. Have them help with housekeeping and laundry. They can also drive him to area addresses and businesses. Call to learn more.
If you or an aging loved-one are considering

Home Care Services in the Prairie Village KS

area, please contact the caring staff at Elder Care of Kansas City, today. Proudly serving Jackson, Clay, Platte and Cass Counties in Missouri as well as Johnson and Wyandotte Counties in Kansas for over 30 years. Call us at 816-333-3322.
Latest posts by Kevin Edwards
(see all)