Elder Care Services Options to Consider for Your Dad's Needs
Your dad needs help around the home. He's struggling to keep up with housework and laundry. He might no longer drive and hesitates to ask others for rides. Maybe he hates cooking meals and is constantly ordering deliveries from local pizzerias and other restaurants. Have you looked into elder care services? Sit down and talk to your dad. You may want to enlist the help of other family members. An honest discussion is the best way to address his care needs.
Gather the family, bring his favorite foods, and enjoy a meal together as you talk about the benefits of elder care.
Personal Care Assistance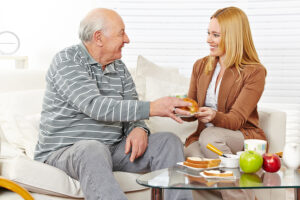 Is your dad having difficulty with personal care? If so, personal care attendants are ready to help out. His caregivers can help him brush and floss his teeth twice a day. They can help him get in and out of the shower.
If he needs help with skincare and shaving, it's part of a personal care plan. Caregivers help your dad trim his nails, check his feet for cracks, blisters, or sores, and notify you if there is any change that should be addressed with a doctor.
Your dad's health may be deteriorating to a point that toileting independently is a challenge. His caregiver can remind him when to go to the bathroom based on his patterns. If he usually needs to void his bladder an hour after having a glass of water, his caregivers will have him try when an hour has passed.
Personal care services also include dressing. Your dad may have difficulty deciding if it's too warm for a sweater. His caregiver helps him choose an appropriate outfit.
Companion Care Services
Your dad may be fine handling his hygiene, grooming, and personal care needs. He uses the toilet on his own. He showers on his own and never needs help getting dressed. This rules out any need for personal care.
That doesn't mean that elder care isn't right for your dad. He may need help with companion care. He needs to have a caregiver available to keep him company each week. His caregiver may need to stop in and do the housework and laundry before leaving for the day.
Companion care services cover tasks like meal preparation and kitchen clean-up. If your dad doesn't cook, he can have healthy meals without having to prepare them. Let his caregiver help him plan a menu, go grocery shopping, and prepare the meals and snacks he wants.
Your dad has a hard time taking care of errands like refilling prescriptions, stocking up on cleaning supplies and toiletries, or going to the post office. When he has elder care services, his caregiver can help him.
The best part of elder care is that it adapts to his needs. If his stamina, health, or mobility worsens or improves, his elder care aides adjust his care plan to match his current needs. Call to learn more.
If you or an aging loved one are considering Elder Care Services in the Independence MO area, please contact the caring staff at Elder Care of Kansas City, today. Proudly serving Jackson, Clay, Platte, and Cass Counties in Missouri as well as Johnson and Wyandotte Counties in Kansas for over 30 years. Call us at 816-333-3322.
Latest posts by Kevin Edwards
(see all)