Signs Mom Is Worried About Life at Home Alone
Your mother may put on a good façade and make you think she's completely fine, but you see the signs. Maybe you go home after visiting with her and wonder if she will be okay for the rest of the night or should she have support from elder care services. This thought pattern can lead to a lot of doubt, not to mention sleepless nights.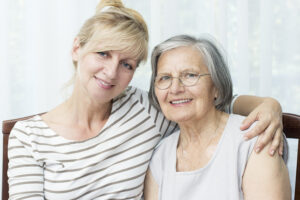 If you aren't quite certain whether your mother is actually worried about life at home, especially since she is living alone, below are four signs that may very well indicate that is the case.
Remember, even if your mother is worried, there is a solution. Elder care. Now, about those four potential signs (and understand there could be many other warning signs as well)…
Sign #1: She asks for more help.
At first, maybe your mother was asking for help every so often. You may live in the same area, or close enough that it wasn't a big deal to swing by and offer a helping hand, but what can often happen is that as seniors age and deal with more physical challenges, they will ask for more help.
Another thing that can happen is that the aging senior -your mother in this case- might have struggled to even ask for help in the first place, but once she started getting you to assist her, she liked it. So, she began asking for more and more. Asking for more help generally means she is starting to worry about her safety and vitality.
Sign #2: She wants you to stop by more.
Whether you're actually helping her with things or not, if she simply requests that you stop by more often, there's a reason and it might not be about loneliness.
Sign #3: She complains about certain tasks.
If your mother isn't one to complain much, but has taken to telling about all these things she doesn't like, doesn't want to do, or that concern her, there's something usually behind the scenes driving it.
Sign #4: Her personal hygiene is going downhill so it maybe time to talk elder care services.
When an aging senior has trouble with their mobility, balance, or strength, they will worry about bathing. Stepping into and out of the tub or shower can be nerve-racking.
If her hygiene has become an issue, consider that her safety may be a concern for her and talk about elder care options.
If you or an aging loved-one are considering

Elder Care Services in the Prairie Village KS

area, please contact the caring staff at Elder Care of Kansas City, today. Proudly serving Jackson, Clay, Platte and Cass Counties in Missouri as well as Johnson and Wyandotte Counties in Kansas for over 30 years. Call us at

816-333-3322

.
Latest posts by Kevin Edwards
(see all)