How to Have a Safe Thanksgiving for Your Senior Loved One
Next month is Thanksgiving, and it's a wonderful time to spend with loved ones of all ages. The changing colors of the leaves, the coolness of the air, and spending time with loved ones are all wonderful features of this holiday. Whatever your plans for Thanksgiving may be—a visit to an aging relative in a long-term care facility, a large family gathering at your place, or a quiet evening with a parent or grandparent—here are some suggestions you can use to ensure your loved one stays safe during this time. If your elder has home care services, include them in the celebration and it will offer extra support for your loved one.
Plan Out Your Time Together and Include their Home Care Aide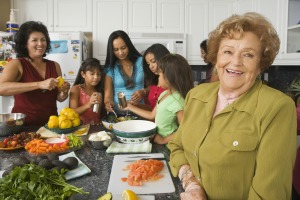 It's important to ensure no one feels overwhelmed or left out over the holiday weekend. Make sure you give yourself plenty of time to organize your gathering. When using a seniors wheelchair, will they be able to get a suitable driver? Think about Grandpa. Do you think he'd be able to stay up that late? Make sure that everyone can get to the gathering, can find a place to stay, and is available to have a good time. If extra help is needed, you need to also think about having their home care aide come along as well.
Create a Healthy Menu for Your Loved One
Although Thanksgiving dinner is a time for feasting and merriment, it is not an excuse to neglect healthy eating. Especially if older citizens are present, it is important to plan meals that everyone can enjoy. It's important to keep in mind the digestive capabilities of your guests and to provide some softer dishes for those who may have difficulty chewing.
Think of All-Inclusive Activities and Share Your Favorite Memories as a Family
Consider events that may be enjoyed by people of all ages. Make plans for a stroll, a supper, or a game of cards with the gang. Spend time together seeing a film, trading anecdotes, or following a sporting event. It's important to organize a fun event that everyone can participate in.
One of the best things about Thanksgiving is its chance for families to get together. Remember the good experiences you've shared and reflect on those memories. It might be helpful to engage a parent showing early signs of dementia in conversations about times gone by. It's helpful to discuss long-term memories that occurred many years ago with someone with dementia since the disease often affects short-term memory first.
Always Keep a Positive Mindset and Go The Extra Mile for Your Loved One
There are times when the holidays cause undue stress. Making sure everyone is fed well, gets where they need to go, and has a wonderful time may be a real challenge. When a loved one is sick, it becomes much more complicated. Try to have a good attitude and appreciate the time you have together. There's no need to focus on the bad. Feel grateful for the time you're spending together, and be fully present in the moment.
This Thanksgiving, be selfless and do something kind for the people you care about. Sometimes you may need to go the extra mile by also asking home care aides to be there for your senior. Preparing an additional meal or traveling a long distance to see a relative may seem like a lot of effort, but it will be well worth it in the end. If you care about your senior loved ones, you should go above and above to give them a memorable Thanksgiving.
If you or an aging loved one are considering Home Care Services in the Lee's Summit MO area, please contact the caring staff at Elder Care of Kansas City, today. Proudly serving Jackson, Clay, Platte, and Cass Counties in Missouri as well as Johnson and Wyandotte Counties in Kansas for over 30 years. Call us at 816-333-3322.
Latest posts by Kevin Edwards
(see all)