Do Spicy Foods Have Any Health Benefits?
Each year on the 16th of January, International Hot and Spicy Food Day celebrates dishes that have added zip. From curry to chili, this culinary day has households dishing up all of the heat you can bear.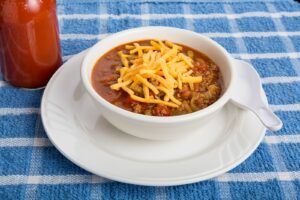 Some people have a high tolerance for chili peppers. Others can't take much. If your parents enjoy the spicy heat peppers deliver, they're in luck. Studies find that the capsaicin in chili peppers also benefits several aspects of your health.
Capsaicin Benefits the Heart
Research from the Mediterranean Neurological Institute took a close look at the benefits of capsaicin. They looked at the health of more than 24,000 men and women who regularly ate chili peppers for more than eight years.
A quarter of those studied ate at least four spicy meals each week. About 34 percent never ate spicy foods. Comparing the two groups, they found there was a 34 percent lower risk of death related to heart disease in the group that regularly consumed capsaicin.
History Shows Chili Peppers Have Been Used for Wounds
Historical findings show that the Ancient Mayans used chili peppers to disinfect wounds. It was also used to treat ear infections. Later studies have found that the oils from chili peppers do work as anesthetics, which may explain why it was a popular treatment for ear infections.
Anti-inflammatory Properties of Capsaicin May Help Arthritis
Studies have also found that chili peppers have anti-inflammatory properties. Peppers also have high levels of antioxidants. Combined, there is a belief that may help older adults who have arthritis and other chronic conditions linked to inflammation.
Some Studies Find Capsaicin Affects Cancer Cells
Some studies have found that the capsaicin in chili peppers can alter the growth of cancerous cells. Studies are ongoing, but some researchers do believe that capsaicin could help trigger the slowed or halted development of cancer cells for more than 40 types of cancer.
Homecare Services Helps With Meal Preparation
Your mom and dad want to add more chili peppers to their meals. They have a harder time standing in the kitchen or carrying hot pans. What can you do?
Homecare aides follow your schedule and come to your parent's home. While there, the caregivers do whatever is on the list of services you've ordered. You might have the caregivers cooking meals and cleaning the kitchen or taking your parents grocery shopping.
With homecare services, your parents have help to retain their independence as they age at home. They gain confidence and security. Call to learn more.
If you or an aging loved-one are considering Homecare Services in the Belton MO area, please contact the caring staff at Elder Care of Kansas City, today. Proudly serving Jackson, Clay, Platte and Cass Counties in Missouri as well as Johnson and Wyandotte Counties in Kansas for over 30 years. Call us at 816-333-3322.
Latest posts by Kevin Edwards
(see all)