In-Home Care Solution for Parent Care
It's estimated that there are approximately 53 million unpaid caregiver in the U.S. Of those caregivers, about 42 million care for an adult over the age of 50. The majority of this care is provided to a parent or grandparent, but what happens if you don't feel you're the best caregiver for your parents' needs? In-home care services may be your solution.
Caregiving Takes Skills Many People Lack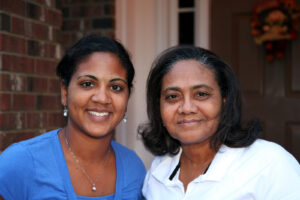 Every situation differs, but the things your parents need help completing can be way beyond your skillset. If your dad cannot get out of bed without you helping lift him, you need to have the body strength to complete that task.
If you're not strong enough, you risk an injury. Even with equipment to help with transfers, you need to know how to use the equipment correctly. If you strain a muscle, the cost of medical treatments and the time needed to heal may be beyond your reach.
You may face other things that you're not comfortable helping with. Your mom needs someone to bathe her, and both of you are embarrassed by it. That makes it more challenging as she fights you, and you don't know how to argue with her. Your dad has to have someone clean him up due to his incontinence issues, but you gag every time.
These are all concerns family members have when caring for their aging parent. They're valid concerns, and you can't just ignore how you feel.
Focus on Your Mental and Physical Health
Caregiving is hard work, and it can impact your mental and physical health. Around 53 percent of unpaid caregivers admit they felt obligated or pressured to become the family caregiver. If you're not caring for your own mental and physical health, you could burn out. Anxiety and depression are a risk.
If you did burn out or develop anxiety, you're not going to be in any position to help your parents. That's why it's so important to listen to your body and know your limits. If you're not prepared to be a family carer, you shouldn't push yourself into a role that makes you uncomfortable.
Hire Trained In-Home Care Providers to Help Out
You should never feel guilty if you simply cannot care for your mom or dad. Caregiving is hard work, and it's not something everyone can do. Whether you live too far away or can't get the time off that's needed to provide the care, it's okay to realize you can't do it on your own.
In-home care services help thousands of families every year. Your parents don't have to be alone all day. Instead, trained caregivers spend time with them while you're at work, tending to your children, or living out of state. Call our in-home care agency to find out more about the prices and services.
Source: https://www.aarp.org/content/dam/aarp/ppi/2020/05/full-report-caregiving-in-the-united-states.doi.10.26419-2Fppi.00103.001.pdf
If you or an aging loved-one are considering

In-Home Care Services in the Lee's Summit MO

area, please contact the caring staff at Elder Care of Kansas City, today. Proudly serving Jackson, Clay, Platte and Cass Counties in Missouri as well as Johnson and Wyandotte Counties in Kansas for over 30 years. Call us at

816-333-3322

.
Latest posts by Kevin Edwards
(see all)