Five Tips for Talking with a Senior Who Has Dementia
Talking to a senior with dementia is very different from any other conversation you've had with her in the past. Her brain doesn't work in the same way and you might worry that you're not going to be able to get through to her.
Gently Get Her Attention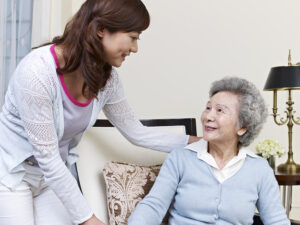 Getting your senior's attention is going to be the first hurdle you need to clear. Some ways you might use to get her attention can be jarring, though, so you want to avoid that. Try diligently to get her attention in a gentle and calm manner so that you don't start off on the wrong foot.
Keep Your Attitude and Your Tone Positive
You might already know that this conversational topic is a tough one or that it's difficult to get your senior to stick with you long enough to make a decision. The problem is that if you're already dreading the conversation, that's going to color your attitude and your tone. You need to do what you can to keep both as positive as possible. Your senior isn't deliberately trying to be difficult, so start fresh.
Simplify Complicated Concepts
Whatever you're talking about with your senior, keep the concepts as simple as you can. You might need to break down decisions into smaller concepts that you offer separately in order to avoid confusion. Your elderly family member's brain doesn't process information in the same way that it did in the past, so your approach needs to change, too.
Pay Close Attention to Her Responses
It's important that you give your senior's responses and reactions your full attention. She might not tell you she's confused or upset, but her reactions can tell you that. As you start to understand what her responses mean, you can tailor the situation to what she needs back from you in that moment.
Keep the Conversation Relaxed
Your senior might not understand all of what you say, especially in the later stages of dementia, but she does understand your tone of voice and whether you're tense and upset or not. There may be times when you need to leave the current conversation and just come back later, especially if it isn't going as well as you'd hoped.
Senior care providers can help you with these issues, too. They're experienced in talking with people who have dementia and they understand the frustrations both you and your senior are feeling. Senior care providers can help you to work through the communication issues you're experiencing.
If you or an aging loved-one are considering Senior Care Services in the Lee's Summit MO area, please contact the caring staff at Elder Care of Kansas City, today. Proudly serving Jackson, Clay, Platte and Cass Counties in Missouri as well as Johnson and Wyandotte Counties in Kansas for over 30 years. Call us at 816-333-3322.
Latest posts by Kevin Edwards
(see all)