When's the Right Time to Discuss Senior Home Care?
Is it ever too early to talk to your mom about her need for home care? It's always better to discuss senior home care services as early as possible. It's better to talk it out and have a plan in place, even if you're not sure she needs a caregiver yet.
How do you bring up home care with her? It's easier to do than you might imagine. Sit down with your mom and any family members who should be involved in her care plan and ask these questions.
What Are Her Goals?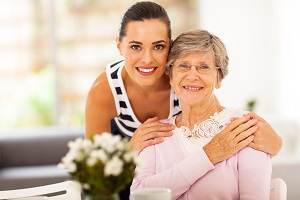 Start by talking about your mom's plans and goals. Does she like her current home and want to stay there? If so, is it equipped with the things she needs while aging? If she needed to switch to one-level living, is there a bedroom area on the main floor? Does it have a bathroom with a shower or tub?
If it's not equipped for one-level living, can you change things without spending more money than your mom is comfortable spending? If it took adding a stair lift to get upstairs to the bedrooms and main bathroom, can she afford that? Is it better to have a senior home care aide helping out?
Does her home need safety improvements? Are her utility bills too high? Adding insulation, new windows, and new roofing can help lower her bills. Upgrading to an efficient heating and cooling system also helps, but it can be costly.
Would it be better if she downsized or would she prefer that? If so, where would she want to move?
What Is the Family's Health History?
Your mom's health may be impacted by her family history. If her mother, uncles, and grandmother had Alzheimer's, she has a higher risk. If her dad and his family all had high blood pressure and heart disease, those are risks.
It helps to have this knowledge. She can talk to her doctor about her risks and what she can do to lower those risks. Medications, dietary changes, and lifestyle changes can all help, and it may help her to have a caregiver to assist with some of these measures.
Does She Encounter Any Challenges During the Week?
How does your mom do on her own each day? Is she able to clean her home, make her bed, cook meals, and prepare snacks? If she has prescriptions to take, does she remember them?
Is she able to get in and out of bed without falling? How about the shower or her favorite seat? Can she walk up and down the stairs on her own? Does she drive or has she had to give up her keys due to aging?
Go over the different IADLs that your mom should be able to do to live comfortably on her own. If she's having a hard time with any of them or is unable to do simple things like a shower, brush and floss her teeth, or walk around, it's time for home care.
Time Talk to a Senior Home Care Provider
Your mom may only need help once a week for now. That's fine. It's better to make the arrangements before someone happens. Planning your mom's care after a fall or emergency happens is stressful.
Gather the information you need so that you're informed when the time comes. If you wait too long, you might find yourself wishing you'd been proactive. Talk to our senior home care advisor to learn more.
If you or an aging loved one are considering Senior Home Care Services in the Lenexa KS area, please contact the caring staff at Elder Care of Kansas City, today. Proudly serving Jackson, Clay, Platte, and Cass Counties in Missouri as well as Johnson and Wyandotte Counties in Kansas for over 30 years. Call us at 816-333-3322.
Latest posts by Kevin Edwards
(see all)