How Seniors Can Lower Blood Pressure At Home
When a senior has high blood pressure, it can put them at risk for other serious things like heart disease. 24-hour home care can help a senior monitor their blood pressure at home and help them live healthier. Most seniors will have a doctor who will help monitor their health. Through these visits, 24-hour home care will be able to tell what needs to change in a senior's home.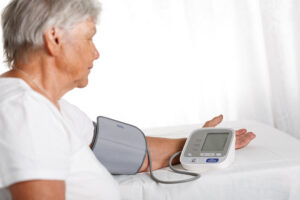 Caregivers are some of the best professionals to hire for seniors because they are more than just companions. They can help prepare meals, grocery shop, take the seniors to appointments, organize the house, and much more. When you don't have time to watch your loved one all the time, it's time to hire a 24-hour home care specialist who can help a senior age in place even with health conditions.
Losing weight, eating healthy, and reducing sodium can be great ways to lower blood pressure, but there is much more. 24-hour home care can help a senior make the necessary lifestyle changes to lower blood pressure at home. There are even ways to monitor blood pressure at home, and they are not that expensive.
Take a look at some of the best ways to reduce blood pressure and have 24-hour home care help.
Lose Extra Weight
Obesity can be deadly for seniors. A body may change shape and size but having the extra weight can put a senior at risk more than high blood pressure. This can be something crucial to focus on and a doctor may even recommend it.
Exercise More
Part of helping lose weight can also help lower blood pressure. Getting regular exercise through walking or short workouts will help lower blood pressure too. People can truly benefit from 30-60 minutes of moderate intensity workouts.
Lower Sodium Intake
One of the first things 24-hour home care can help a senior with is to find recipes with limited sodium. This may mean getting rid of packaged foods and cooking more meals but caregivers can help with all of that. Limiting the amount of salt and sodium can be great for blood pressure and heart health.
Reduce Stress
Stress can cause so much harm on the body and it is often something that is overlooked. This is also something that can be a lot harder to manage and control. 24-hour home care may help reduce a lot of the household stress but it might not be enough. Finding ways to de-stress will be crucial.
Increase Potassium Rich Foods
This is a mineral that helps lessen pressure on blood vessels and allows your body to rid itself of sodium. Potassium can be found in vegetables, fish, and some fruits. Try finding a recipe with dark leafy greens, beans, bananas, or even yogurt.
Drink Less Alcohol
Some people may enjoy a glass of wine over dinner but limiting alcohol is necessary when thinking about lowering blood pressure. Alcohol is not very good for your body and should be limited especially in the senior community.
If you or an aging loved-one are considering

24-Hour Home Care Services in the Leawood KS

area, please contact the caring staff at Elder Care of Kansas City, today. Proudly serving Jackson, Clay, Platte and Cass Counties in Missouri as well as Johnson and Wyandotte Counties in Kansas for over 30 years. Call us at

816-333-3322

.
Latest posts by Kevin Edwards
(see all)