Tips for Improving Quality of Life with COPD
Living your best life with COPD is possible. Here's what you and companion care at home providers can do to help ensure your elderly loved one can maintain the best quality of life available for as long as possible.
Healthy Living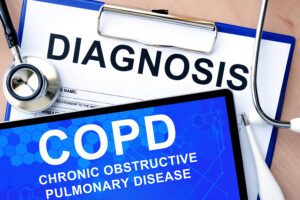 Staying overall healthy is one of the key factors. Your elderly loved one should continue to keep their body healthy with smart practices and follow great proper hygiene. They shouldn't skip out on their vaccinations, should avoid sick people whenever possible, and be proactive with good hand hygiene. Also, they shouldn't overlook keeping their home tidy to prevent triggers for COPD symptoms.
Living with COPD during a pandemic is especially a huge challenge, but it's a challenge your elderly loved one can overcome! Therefore, you and companion care at home providers can ensure your loved one is wearing a mask when they leave home.
Avoid Triggers
Avoid common triggers, which are the key to feeling well, such as smoke, air pollution, extreme weather conditions, and lung irritants. Dust, dander, fumes, and fragrances are all lung irritants and can make symptoms worse, too. They can even trigger a serious flare-up of symptoms called a COPD exacerbation. Protecting your elderly loved one's health means avoiding triggers, which allows them the freedom to participate more in their own life.
Follow Your Treatment Plans and Recommendations
It is important that your elderly loved one follows their treatment plan. Treatment plans help slow down the progression of COPD. Treatments usually involve a series of medications, pulmonary rehabilitation, and oxygen therapy. If your elderly loved one needs help to follow their treatment plans and doctor's recommendations, you and companion care at home providers can help.
Get Some Exercise
To strengthen respiratory health, getting exercise is important! Getting regular, moderate exercise is very important for managing COPD. Breathing may feel uncomfortable and more difficult initially when first starting an exercise regime. However, if one of your elderly loved one's treatments is oxygen therapy, they can most definitely exercise during supplemental oxygen treatments, with the approval of their doctor.
What Companion Care at Home Aides Should Know About Living With COPD
With the right treatments and tips, alone, a COPD diagnosis can be a little less overwhelming and manageable. Your elderly loved one can still live a full and active life! With COPD, as the disease progresses and breathing gets more difficult, treatment will help mitigate the impact. However, the most important thing about living with COPD is to focus on living the best life you can, starting today!
To meet your family member's specific needs, it may be best to get them companion care at home services starting today. These providers can help your elderly loved one with various services and needs such as light housekeeping, medication reminders, helping them get to their appointments, running errands with or for them, and helping ensure they stay healthy! If you have more questions about the way that companion care at home providers can help your elderly loved one manage COPD, don't hesitate to ask today.
Sources: https://www.cdc.gov/copd/resources.html
If you or an aging loved one are considering Companion Care at Home Services in the Shawnee KS area, please contact the caring staff at Elder Care of Kansas City, today. Proudly serving Jackson, Clay, Platte, and Cass Counties in Missouri as well as Johnson and Wyandotte Counties in Kansas for over 30 years. Call us at 816-333-3322.
Latest posts by Kevin Edwards
(see all)