Getting Senior Citizens Started on Better Fitness
Fitness is important for everyone, including seniors. For the seniors that can still move around, it is important to keep moving. There are many tips on helping a senior in your life to be healthier and more fit. If they have an elderly care provider, they can get even more of the help they need with their fitness level.
Starting Where They Are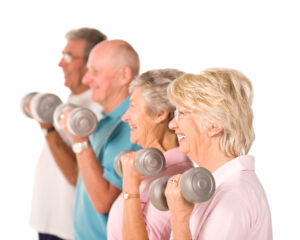 It is important that the senior citizen in your life starts where they are. They don't want to get hurt. It is very important that they don't push themselves. Your elderly loved one needs to be safe and that needs to be a priority. The most important first step is to check with your senior loved one's doctor, to assess their current level of physical ability and have the doctor instruct them on what are safe exercises for them. An elderly care provider can offer some assistance with exercises prescribed by the doctor, but personal safety and not overextending themselves is vitally important.
Group Classes
There are some senior citizens who can still get out of the house, with help, generally. If you can't take your elderly loved one, maybe you can have their elderly care provider take them to a group fitness class. There are many different types of exercise and fitness classes available. Usually, local community centers have a list of classes that your loved one could be taking. Just make sure it is at their level, so they can stay safe.
Personal Trainers
Aging well is possible. If your senior citizen loved one is stuck at home, it might be beneficial to hire them a personal trainer. Personal trainers are skilled at making sure people start where they are and not pushing them too fast. They are also experienced in helping senior citizens to stay healthy. This is something you might want to check into.
Physical Therapy
Another great way to stay fit is the use of physical therapy. If your elderly loved one is recovering from an injury or surgery, physical therapy might be something they need. Physical therapy is a safe way to get your elderly loved one back into shape.
Fitness Trackers
Many people these days have fitness trackers. There are Fitbits and other wearable fitness trackers, as well. These can track steps, sleep, activity, and more. If your elderly loved one wants to track their fitness and activity, getting them a fitness tracker can be a great thing.
These are some of the ways that you can get senior citizens started on better fitness. There are different paths that everyone should be taking and these are some of the ways that your elderly loved one can get fit. Just remember that the number one thing to pay attention to is senior citizen safety. Don't let them push themselves too far, too fast or they could get injured.
Sources: https://www.betterhealth.vic.gov.au/health/ten-tips/10-tips-to-exercise-safely
If you or an aging loved-one are considering Elderly Care Services in the Shawnee KS area, please contact the caring staff at Elder Care of Kansas City, today. Proudly serving Jackson, Clay, Platte and Cass Counties in Missouri as well as Johnson and Wyandotte Counties in Kansas for over 30 years. Call us at 816-333-3322.
Latest posts by Kevin Edwards
(see all)