How In-Home Care Helps a Senior with Dementia From a Fall
If your elderly family member has dementia, her fall risk might be much greater than you think it is. The reasons for that are many, and they're primarily related to how dementia affects your senior's ability to think and to reason. Here are just a few of the ways that dementia increases your elderly family member's fall risk and how in-home care providers can help.
Lack of Physical Activity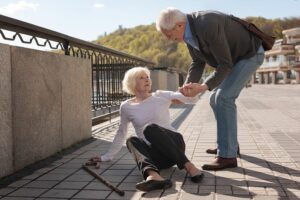 As your elderly family member's dementia progresses, she may not be nearly as active as she was in the past. This can mean that she loses some muscle tone and possibly even "forgets" how her body works. Moving regularly, even if it's not the activities that she enjoyed in the past, can help her to keep that muscle tone.
Physical Weakness and Bad Balance
Beyond just not moving more, your elderly family member's balance may be a lot worse. Balance is processed in the brain, which can be a big problem for someone experiencing cognitive changes like the ones from dementia. Your elderly family member may also be losing muscle tone much faster than she would have if she didn't have dementia.
Poor Judgement
Many people with dementia, even in the earlier stages, have trouble with poor judgment. What this means for your senior's fall risk is that she may make decisions that put her more in danger of falling. She may try to walk on uneven surfaces alone, for instance, or she might head out of the front door and forget about the porch steps.
Memory Issues
Memory issues are a hallmark of dementia, of course, but they can also make your senior more likely to fall. She can forget that she has difficulty with mobility or forget that she needs to use a walker or cane to steady herself. This can be a huge issue for her every time that she stands up from a seated position.
Side Effects from Medication and How In-Home Care Helps
Medication side effects are a big problem for anyone, but they can be especially dangerous for a senior with dementia. Your elderly family member may not be able to tell you when she's feeling dizzy or nauseated or off in some other way. She might even experience side effects in an exaggerated way, and you may not realize that she is.
As your senior's dementia progresses, it helps to have in-home care providers there with her. They can help her to avoid situations that may make it more likely that she'll experience a fall.
If you or an aging loved-one are considering

In-Home Care Services in the Kansas City MO

area, please contact the caring staff at Elder Care of Kansas City, today. Proudly serving Jackson, Clay, Platte and Cass Counties in Missouri as well as Johnson and Wyandotte Counties in Kansas for over 30 years. Call us at

816-333-3322
Latest posts by Kevin Edwards
(see all)