Home Renovations for Elders Who Age in Place
Aging in place has become a huge trend that can be done with the help of elder care providers and a few smaller renovations. Occasionally, a senior living in a big house may have to downgrade homes to something more manageable. However, in many cases, elder care providers can help them stay in the home they love no matter what.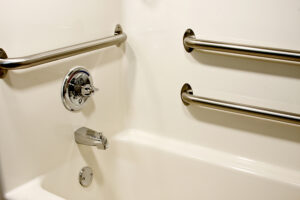 If your parent or loved one is determined to stay at home, you should consider some home renovations for safety reasons. Physical changes happen as the senior age, and not all will be able to move around like they once used to. Small renovations can happen that will help the senior stay mobile even with elder care helping.
Being independent is one of the main reasons seniors like to stay at home while they age. However, certain household layouts can hinder this independence. If a care specialist has been watching a senior for a while, they may help organize and rearrange to best suit the senior and make some renovation recommendations.
Home Renovation Ideas
Renovating a senior's home does not have to be a costly affair. Some changes are easy to make but will really help the senior live at home and stay independent. Even with the help, things should be made easier for your senior when the help is not there. Here are some ideas to think about if you have a loved one who insists on aging in place.
Focus on Doors
Widening doorways can be a cheaper job but save a lot of trouble. If your senior uses a wheelchair or walker to get around you may want to look at widening the doorways in the main parts of the house. This can allow them to get around easier without getting stuck. It can be between $400-$600 for each doorway.
Lever Door Knobs
Instead of using twist round door knobs try changing them for levels. These are knobs that you can push down instead of twist. This may make it easier for someone with arthritis or other hand issues. The best part about this home renovation is that you can easily head over to your parents house and do this renovation by yourself.
Rails and Grab Bars
One of the best renovations you can do is to put grab bars in the bathroom and bedroom. This will allow the senior to get in and out of bed on their own and also use the restroom alone. This renovation is best for people who can still move on their own. If a senior needs more help, elder care is the best option for getting them around safely.
Wheelchair Ramp
You may be thinking a wheelchair ramp is too expensive, but the truth is it can cost around $1500 to install one. This is perfect for those seniors who like to go in and outside on their own. This allows them to walk down to their yard without needing extra help.
If you or an aging loved-one are considering

Elder Care Services in the Belton MO

area, please contact the caring staff at Elder Care of Kansas City, today. Proudly serving Jackson, Clay, Platte and Cass Counties in Missouri as well as Johnson and Wyandotte Counties in Kansas for over 30 years. Call us at

816-333-3322

.
Latest posts by Kevin Edwards
(see all)