Home Care Services can Step in for Long-Distance Caregivers
What is a long-distance caregiver? The National Institute of Health defines long-distance caregivers as people who live at least an hour from the person they're helping. You help your mom and dad shop for groceries and other necessities, but you live three hours away. That makes you a long-distance caregiver. When you live a distance from your parents, your duties as a family caregiver are more complex but home care services can help. Keep these five things in mind.
Who Else Can Help Out?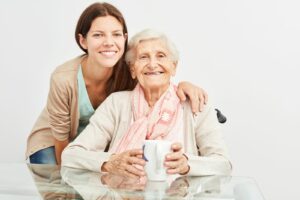 Do you have family members or close family friends nearby? If your sister lives a mile from your parents, she should be helping with some of the care they need. Your parents' neighbors may be willing to bring them along when grocery shopping.
Be Reasonable When It Comes to Your Abilities
What can you do to help your parents when you live in another town or state? You might not be able to help them at their home each day, but you could help them make appointments, pay bills online, or reorder prescriptions. You could arrange home care services to fill in the gaps.
Does It Make Sense to Move
If you're in another state, could someone move to be closer? Have your parents talked about downsizing to a smaller, more manageable home? Do you work in an area that's just as close to your parents? If it's possible to move closer to them or for them to move nearer to you, consider that option.
You might also want to consider moving in together. If your home has an in-law apartment, it can be easier to have your parents live on your property. You each have your space, but you're there in case of an emergency.
Connect With Home Care Services Medical Professionals Who Care for Your Parents
Make sure you've connected with your parents' medical professionals and others who care for your parents. You want to verify that you're allowed to ask questions. If your parents haven't named you in their HIPAA forms, they need to. Without permission, doctors are not able to tell you too much.
Do your parents have neighbors who help them out? You should know how to reach the neighbors. If you have siblings or cousins in the area and stop in to see your parents, talk to them regularly. They can be your eyes and ears and alert you if anything seems off.
Make an Emergency Plan
Create an emergency plan that covers different scenarios. If your mom or dad becomes ill and needs help with meals, who lives nearby and is willing to help. What happens if your parents have to leave their home due to a broken heating system or extended power outage? Do they have someone safe to go?
Living miles from your parents doesn't mean they need to be on your own until your next visit. Talk to a home care services specialist about companionship services. Home care services aides can stop by and keep your parents company. Call to learn more about prices and schedules.
Source: https://www.nia.nih.gov/health/caregiving/long-distance-caregiving#
If you or an aging loved-one are considering

Home Care Services in the Independence MO

area, please contact the caring staff at Elder Care of Kansas City, today. Proudly serving Jackson, Clay, Platte and Cass Counties in Missouri as well as Johnson and Wyandotte Counties in Kansas for over 30 years. Call us at

816-333-3322
Latest posts by Kevin Edwards
(see all)