What Foods Should Your Mom Eat More Of?
You worry about your mom's diet. She doesn't like to cook for one, so she tends to stick to frozen pizzas, fries, chicken nuggets, and canned soup. It's time to look at what she is eating and help her adjust her diet to one that provides the right nutrients. It may also be time bring in home care assistance providers to help her in this as well.
Foods That Older Adults Don't Often Eat Enough Of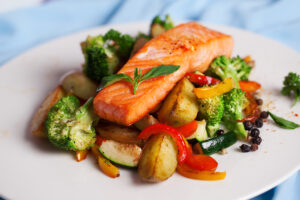 Dairy is one of the foods that older adults often overlook. Many times, it's the higher fat content that keeps them from consuming enough. Dairy is one of the easiest ways to get enough calcium and vitamin D. If the fat content is a concern, look into low-fat options.
Fiber is another nutrient that older adults often overlook. Your mom can get fiber from beans, whole grains, and many fruits and vegetables.
Finally, she needs to eat foods that are protein-rich. Protein is important for muscle strength.
Stock Up on Dried Beans and Whole Grains
Beans are full of fiber. They may lead to gas, but fiber is essential for heart health and to lower the risk of diabetes. Keep low-sodium or salt-free canned beans on hand. Dried beans are even better, though they do require cooking time.
Plus, when you cook dried beans, you soak them overnight. That process removes more of the sugars that lead to gas and bloating. Cooking them with baking soda is also believed to help.
Whole grains add fiber to the diet and make you feel fuller. When you feel full, you're less likely to binge eat. Aim for grains like barley, whole oats, brown rice, farro, bulgur, and quinoa.
The benefit to whole grains is that you can cook them in large batches and store them in the freezer. When your mom is in the mood for a quick grain bowl, the grain she chooses is already available and just needs to be thawed overnight or in the microwave.
Get Antioxidants From Fruits and Vegetables
Antioxidants help with skin health and can lower the risk of certain types of cancer. Your mom wants to eat fruits and vegetables with each meal. If she has a hard time eating that many servings, you can boost her intake with a breakfast smoothie.
Mix some spinach powder with frozen blueberries, kefir or yogurt, low-fat milk, and a banana. She'll get fruits and vegetables in one glass. There are powdered vegetable blends that add additional nutrients like flaxseed powder and chia seeds.
Keep Seafood on Hand
Protein is important, and she can get it from fish. Plus, fish is rich in heart-healthy omega-3 fatty acids. Frozen fish like salmon, tuna, and cod are readily available and can be wrapped in foil or parchment paper and baked in the oven with nothing more than some fresh herbs, lemon juice, and black pepper.
Hire Home Care Assistance Aides to Help Her Prepare Balanced Meals
Hire home care assistance services to get your mom to eat the right foods. Caregivers can prepare her meals and snacks, take her grocery shopping, and keep lists of foods she's running out of. Call our home care assistance agency to learn more.
If you or an aging loved one are considering Home Care Assistance Services in the Prairie Village KS area, please contact the caring staff at Elder Care of Kansas City, today. Proudly serving Jackson, Clay, Platte, and Cass Counties in Missouri as well as Johnson and Wyandotte Counties in Kansas for over 30 years. Call us at 816-333-3322.
Latest posts by Kevin Edwards
(see all)