Talking to a Senior Who Can't Speak
When your loved one can no longer talk, it can feel impossible to communicate with them. However, remember that just because someone can no longer speak does not mean they are not smart or can't understand what you're saying. If you're feeling a loss of connection, that is normal, but there are still ways to communicate with someone who cannot talk back effectively. You can still capture their attention and get a message to them. If your loved one has dementia or another disease, they may require 24-hour home care services and will also want to learn how to communicate with your loved one.
Here are some things to keep in mind when your loved one stops talking and how you can keep the communication open.
Keep Talking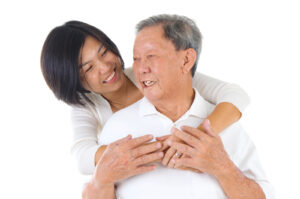 Just because a senior can't talk back doesn't mean they don't want to hear what you say. The sound of your voice can feel soothing for them, and they may like to hear your stories or what you have to say. Talking serves as a way to express care, provide companionship, and foster a connection with the individual. You and 24-hour home care need to keep talking to a senior, to keep the communication and connection open; it will help your loved one feel comfortable even if they can't say anything back. It's the most crucial way to connect openly with your mom or dad.
Friendly Touches
Your seniors may find comfort in your touch. They may love a reassuring pat, a hug, or even a kiss on the head. This is a way to communicate that you are there, you love them, and you see them. They may find comfort they can't get from anyone else, which is important. It allows you to connect physically as well as mentally. They know you care about and love them, which is what's important. Touching can be one of the best ways for you to connect with someone who cannot talk back; in return, they may touch you back.
Turn On Music
Music therapy has been a huge hit in senior care because music can do so many things. You can turn on a relaxing sound to get your seniors to lose some stress, or you can sit them at a piano where they can express emotions through notes. If they are angry, the piano sounds may be angry and harsh. If they are happy, they may be light and slow. Music is the best way to express someone's feelings without words. It can boost someone's mood or express anger, which can help you understand your seniors and connect with them.
Have 24-Hour Home Care Aides Find Art Projects
If your senior can sit down and draw or paint, this is another good way to see how they feel. They can use colors to express emotions, and their drawings can give you a sense of what is still important to them. 24-hour home care can sit and observe what a senior is drawing to ensure they are having their needs met. If a senior is alone most of the time but continues to draw you and them together, it may be a sign that you, as the adult child, must visit more, even if they can't communicate through speech.
If you or an aging loved one are considering 24-Hour Home Care Services in the Olathe KS area, please contact the caring staff at Elder Care of Kansas City, today. Proudly serving Jackson, Clay, Platte, and Cass Counties in Missouri as well as Johnson and Wyandotte Counties in Kansas for over 30 years. Call us at 816-333-3322.
Latest posts by Kevin Edwards
(see all)