National Picnic Day was designed to get people outside for a meal together. On April 23rd, check the weather, pack a picnic lunch, and enjoy a meal with your parents in the fresh air. Before you do, make sure you and your elderly loved ones caregiver know all about picnic safety.
What Can Be Left Out?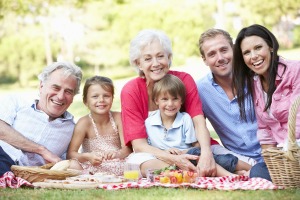 Sometimes, it's hard to tell what must be refrigerated. Vinegar-based sauces like mustard and ketchup don't have to go into a chiller if there isn't room. Leave them on the table while you and your parents chat.
Milk or egg-based dressings and condiments, such as ranch dressing or mayonnaise, must be refrigerated after opening. Keep potato salads or pasta salads that contain them in a cooler that's out of the sun during your picnic.
Cooked meats need to be chilled after you eat. Ideally, pack so that you're not bringing too much food. Don't leave grilled hamburgers and chicken for four hours while you and your parents play games and socialize. Stop after eating, put everything away, and then play games.
It's also best to put things away after eating as the smell in areas populated with bears may draw them. Turn on a radio to try to keep bears from approaching. Carry bear repellent if you know there have been bear sightings in the area. Finally, try to be near a car or a cabin that you can go to if a bear is near.
Watch for Insects
Food will draw some insects. Hornets and wasps are going to be drawn to a fruit salad or sweet beverages. Keep drinks covered to prevent these stinging insects away.
Spray yourselves with insect repellents to keep away ticks, mosquitoes, and biting flies. There are products you can spray around a perimeter to keep insects away. Use them before bringing out the food.
Is It Time to Have a Caregiver Prepare Food?
How do you know when it's time to help your parents with meals? Look for signs that they're relying on frozen meals or takeout. If they have many boxes from meal subscription services, that's not too alarming as many accommodate special diets like low-sodium or vegetarian-only. A collection of pizza boxes is concerning due to the fat and sodium content.
Are your parents getting lax about their food safety measures? Have you visited and found stains on the counters and food that should be in the refrigerator still sitting out on the counter? It's time to ask your parents if they are having a more challenging time cooking and cleaning.
Make sure they know that caregivers can help them with these tiring tasks. With caregivers' help, they'll have home care services like meal preparation, grocery shopping, and kitchen sanitization. Call our agency to discuss these and other services that caregivers provide.
If you or an aging loved-one are considering

Caregiver Services in the Belton MO

area, please contact the caring staff at Elder Care of Kansas City, today. Proudly serving Jackson, Clay, Platte and Cass Counties in Missouri as well as Johnson and Wyandotte Counties in Kansas for over 30 years. Call us at

816-333-3322

.
Latest posts by Kevin Edwards
(see all)