Talking to Your Parent About Companion Care at Home
Accepting help seems like such an easy thing to do, but for an elderly loved one, this can seem like a bigger challenge. Many seniors believe that by accepting help, they are giving up their control and freedom. They may not want to ask family members for help, thinking they will be a burden, or their family may want them to move into a nursing home. Luckily, aging in place is easier than ever before, especially with the help of companion care at home providers.
If your loved one needs more help but has yet to agree to help, here is how to talk to your loved one about accepting help from a professional.
Think Before You Speak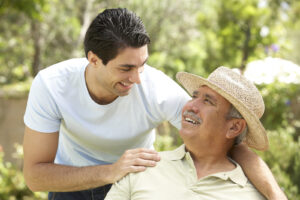 Speaking rashly without thinking about what you're saying is one of the easiest ways to hurt your loved one. You may say something that puts them in a defensive mode, or they may deny what you're saying altogether. So, always think about what you're saying before talking to them. If you have points, questions, and concerns you want to talk about, write out a list to follow. When you start talking to your senior, ensure that it is a two-sided conversation. Allow your loved one to ask questions and share their concerns. When you start this talk, it may take some time before they agree to companion care at home, so be patient with them and allow them to ask questions and talk about everything they are feeling.
Talk About a Specific Health Issue
If you know, there is one incident that has you very concerned for your loved one's well-being, stick to that one, and don't try to bring up other incidents too. Keep it straight and precise when talking to your seniors and get their side of the situation too. You may find that they agree they need more help managing a certain health problem, or they need companionship and help with a routine. They may not be asking for help because they don't want to be a burden. This is something that companion care at home can help with, and it may be a reason for them to accept help. But to start talking about this, stick with specific health issues.
Mention What Companion Care at Home Can Help With
If your senior loved one starts talking to you more, they may need help with specific things. They may need help with meal preparations to manage certain medical conditions, help with hygiene, or even non-medical transportation. Companion care at home can help with all these things, and you can make those points to your loved one. When you mention all of the things they can help with, your loved one may be more willing to accept help without much pressure.
Give Them Time To Accept It
Even when your loved one accepts it's a good idea, setting up can still take time. Your loved one may want to interview several people and companies that provide companion care at home, so patience is important. When your loved one needs help, it can put them in a vulnerable position, and they will want to choose who is helping them. They will be relying on and seeing a caregiver throughout the week, so they will have to find someone they can build a relationship with and trust.
If you or an aging loved one are considering Companion Care at Home Services in the Lee's Summit MO area, please contact the caring staff at Elder Care of Kansas City, today. Proudly serving Jackson, Clay, Platte, and Cass Counties in Missouri as well as Johnson and Wyandotte Counties in Kansas for over 30 years. Call us at 816-333-3322.
Latest posts by Kevin Edwards
(see all)