Benefits Of Audiobooks For Seniors
December is National Read A New Book Month and it's a great time for seniors to discover the benefits of audiobooks. Audiobooks give seniors who have vision trouble the chance to experience new books or classic books that they love in a new way. With companion care at home services, seniors have someone to read books to them, help them pick new books, and talk about the books they have read. But even with companion care at home, it can be beneficial for seniors to try audiobooks so that they can listen to a favorite story before they go to sleep or listen to an audiobook while exercising. Four of the benefits of audiobooks for seniors are:
Audiobooks Bring More Emotion To The Story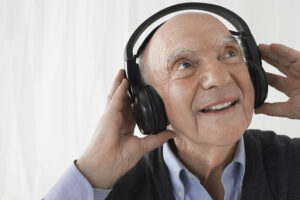 Often the audio version of a book is read by the author of the book, or by an actor. Professional voice actors can give the story much more depth by putting emotion into all the right places and making the story more interesting because of the range of emotions they express. And when the author read an audiobook it allows the author to tell the story the way they intended for people to read it so it makes the story better.
Seniors With Vision Problems may Still Read with Companion Care at Home Help
Seniors with low vision can listen to audiobooks when they have trouble reading. It gives seniors who can't easily read any longer access to news, stories, and all kinds of information that they wouldn't be able to get otherwise. Since seniors with low vision often can't watch TV or movies, audiobooks provide entertainment in an interactive format.
Audiobook Services Provide Huge Selection
Seniors usually need to go to a bookstore or a library to pick out a new book or shop online. But if seniors sign up for an audiobook service they can access thousands of popular audiobooks all for one low monthly cost. It's a great way for seniors who have a hard time getting out of their homes to have access to an entire world of information and entertainment that they can access right from their homes. Seniors who don't drive and spend most of their time at home love being able to listen to any book they want at any time they choose without having to depend on someone to take them somewhere.
With Audiobooks Seniors can Listen Anywhere
Seniors can listen to audiobooks anywhere. They can listen while they're traveling, or listen while they are walking for exercise, or listen in the dark when they're trying to fall asleep. The easy accessibility and portability of audiobooks make them perfect for seniors.
Seniors who have chronic health problems can listen to audiobooks while they are waiting for medical appointments. And seniors who have a medical emergency or a fall and need to be in the hospital can listen to audiobooks to help pass the time in the hospital or the ER. It's a good idea to load an old smartphone or tablet with audiobooks and keep it in your senior loved one's hospital bag along with a charger so if they do need to go the hospital they have a device they can use to listen to audiobooks on.
If you or an aging loved one are considering Companion Care at Home Services in the Lenexa KS area, please contact the caring staff at Elder Care of Kansas City, today. Proudly serving Jackson, Clay, Platte, and Cass Counties in Missouri as well as Johnson and Wyandotte Counties in Kansas for over 30 years. Call us at 816-333-3322.
Latest posts by Kevin Edwards
(see all)