Easy Holiday Recipes for You and Your Senior
When the year hits December, everyone gets in a frenzy to find the best holiday meals. This can be especially true if you have a senior who has to stick to a diet or eat healthily. You, of course, want to invite your elderly loved one over to enjoy the festivities, but you also want to ensure they're staying healthy like they need to. December is a great time to have your senior over to cook together, watch movies, and play with the grandkids. Whether it's you or senior home care providers helping your senior this holiday season, there are tons of easy dishes your senior can help with.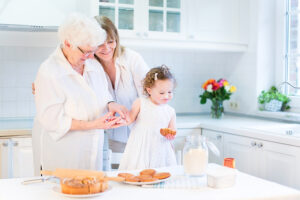 Baking and cooking are necessary skills during the holiday season, but this is not always easy for your elderly loved one. In fact, it can make them feel left out or useless if they have nothing to help with. This list is for you if you're unsure why you should cook together or what easy recipes they can help with.
Why Cooking Together is Important
There are so many reasons why baking and cooking together are essential during this season. You may have heard that the home's heart is the kitchen because much of our life is focused on food. We need it to live, after all. Here are a few reasons why you or senior home care should be cooking with your senior loved one.
It's Bonding Time- This is a time when you can bake secret family recipes and learn from your elderly mom or dad. You can share stories, jokes, and share laughs together.
You Can Learn- When you invite your senior over to share recipes, you may learn something new they never taught you. Inviting them over to cook and bake means multiple generations of the family come together.
You Share This Experience- Holidays are stressful, and you shouldn't want to prepare alone. This is a chance to work as a team with your family, even if they're a senior.
All of these reasons are things to consider this December. It's time to invite your senior over and let them help around your kitchen.
Easy Recipes for Seniors and their Senior Home Care Aides
Firstly, you need to find out what your loved one can do. If they need help getting around, it may be smart to invite their senior home care provider. Some seniors may be able to only chop up things or help prep, while others can create a whole dish on their own.
Here are a few easy recipes for seniors to consider.
Classic Sugar – One staple of this holiday season is to have classic sugar cookies. They are not hard to make, and your senior may actually know a recipe off the top of their head. You can easily make more than a dozen if necessary.
Gingerbread Cookies – If your loved one has a secret gingerbread recipe, this is a great holiday treat that many seniors can bake. They create a full scent throughout the house, and they're super easy to bake.
Mashed Potatoes – Your senior may not be able to mash potatoes, but if you have kids, get them in on the mashing! Your elderly loved one may have secret ingredients they throw into the basic recipe.
Brussels Sprouts and Bacon – If they can't work over an open flame, have them chop and dice the brussels sprouts. You can cook the bacon while they prep everything else!
If you or an aging loved one are considering Senior Home Care Services in the Prairie Village KS area, please contact the caring staff at Elder Care of Kansas City, today. Proudly serving Jackson, Clay, Platte, and Cass Counties in Missouri as well as Johnson and Wyandotte Counties in Kansas for over 30 years. Call us at 816-333-3322.
Latest posts by Kevin Edwards
(see all)