What, How, and Why: Brain Games for Seniors
Aging can be fun. And for seniors, it can help them continue living the best life possible. As the population of seniors continues to grow, increased research on health and well-being, including brain health, is on the rise. Some of the best ways for seniors to remain physically and mentally fit are by playing games, keeping active, and socializing. Having a senior home care aide assist with each of these can help seniors feel valued and supported.
Why Are Games Beneficial for Seniors?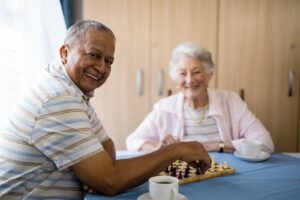 Staying mentally busy by playing games is a smart technique for seniors. According to the National Institutes of Health, research shows that brain games can support and even improve cognitive functions like memory, reasoning, and processing speed. Additional research supports the notion that senior brain games can boost independence, reduce the incidence of dementia, and even reduce the risk of falls.
Seniors may play games with their personal companion at home, family members, or their friends. In addition to promoting social connection, playing these games might help seniors avoid loneliness, another key aging concern. Even playing solitary games is suitable for their health and well-being.
How Is Playing Games Beneficial for Seniors?
Stimulating the brain through game-playing provides a wealth of benefits for seniors. Game-playing helps them connect with others, providing a sense of support and value. With assistance from senior home care professionals, even seniors who might struggle with technology and live further from their families can play games virtually to receive a continued connection.
Playing games exercises the mind and keeps the processes flowing. It must be used for the brain to continue functioning to its full capacity. When playing games, seniors should vary what they're playing to ensure they're using different parts of the brain.
One of the best aspects of playing games is continued problem-solving. Brain games are thought to reengage parts of the mind that are used less often as seniors age. These essential thinking skills need exercise just like any other skill.
What Games Should Seniors Play?
Bingo is an easy game to play and is available in various forms. Seniors can play online, in groups in the community, and at home with friends and family. Bingo uses audio and visual clues, quick thinking, and hand-eye coordination. It is one of the best all-around games for seniors to play.
Crossword Puzzles are excellent for seniors to work on independently, but they can also be worked on with friends, family members, or their senior home care aides. Crossword puzzles can be found online or in a book of puzzles that can be found in grocery or bookstores. Crossword puzzles encourage seniors to problem-solve and recall words from memory, and they can also help with continued writing skills if physical books are used.
Jigsaw puzzles are another widely available game-playing tool for seniors. Puzzles with larger pieces can be found for seniors suffering from arthritis. Working on jigsaw puzzles can be a group or individual effort. Puzzles allow seniors to use their problem-solving and strategy skills while feeling accomplished when the puzzle is complete.

Senior home care professionals provide more support than socializing and playing valuable brain games with seniors. They can also assist with light cleaning in the home, healthy meal planning, and transportation. Additionally, having a senior home care aide helps seniors feel safe and keeps them engaged.

Sources: https://www.ncbi.nlm.nih.gov/pmc/articles/PMC3934012/
https://pubmed.ncbi.nlm.nih.gov/11514044/
https://seniors.lovetoknow.com/Games_for_Senior_Citizens
If you or an aging loved one are considering Senior Home Care Services in the Lee's Summit MO area, please contact the caring staff at Elder Care of Kansas City, today. Proudly serving Jackson, Clay, Platte, and Cass Counties in Missouri as well as Johnson and Wyandotte Counties in Kansas for over 30 years. Call us at 816-333-3322.
Latest posts by Kevin Edwards
(see all)