Facts About Heart Disease for American Heart Month
February is American Heart Month, a month dedicated to raising awareness of heart disease trends and statistics. Your mom has been diagnosed with angina, and it's making her incredibly anxious about living alone. Stress is something she needs to avoid. Take time to learn about heart disease during American Heart Month. Learn more about your mom's heart disease and what you can do to help her reduce stress. Hiring 24-hour home care providers may be a solution to helping your mom.
Around Two People Per Minute Die of Cardiovascular Disease and Half a Million Cases of Angina Are Diagnosed Each Year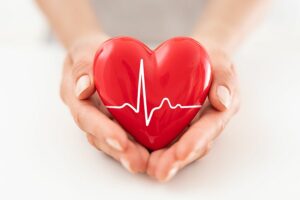 It's scary to think about, but in the nation, around two people every minute die of cardiovascular disease. Once your mom is diagnosed with any form of heart disease, it is important that she follows her cardiologist's care instructions.
In the U.S., 500,000 new cases of angina are diagnosed each year. Around 9.8 million adults have angina. It's a disease where the supply of blood flow and oxygen to the heart becomes imbalanced and causes chest pain. It's tied to coronary artery disease.
A healthy blood pressure is essential. If your mom's doctor says she has high blood pressure, it's time to get the numbers down. Avoiding excess sodium in her diet is a good start. She may need to take medications. If so, make sure she doesn't forget by setting up reminders or having a caregiver remind her to take them.
Common Instructions Are to Stop Smoking, Lose Weight, and Control Blood Sugar Levels
Your mom's cardiology team will tell her to stop smoking if she does. She also needs to lose weight and manage her blood sugar levels whether she's diabetic or prediabetic. To manage the pain, nitroglycerin pills are used.
Only 24% of U.S. Adults Get the Recommended Amount of Exercise
The national recommendation for exercise is 30 minutes per day for at least five days per week. If your mom isn't getting that much, which is likely as only 24% meet that goal, it's time to change her habits.
If she needs someone to encourage her to exercise every day, go for a walk with her. Look around for a free exercise bike or treadmill and make sure she uses it. If you set it up near a TV, she can ride or walk while watching walking tours or her favorite shows or movies.
Ease Stress with Support of 24-Hour Home Care
Stress isn't good for the heart. If she feels stressed or anxious living alone, take steps to change it.
Sit down with your mSom and the rest of the decision-makers in your immediate family. As your mom's health changes, you have to keep her safety and security in mind. With 24-hour home care services, she never has to be alone or scared.
Have caregivers with her throughout the day and night. If she's not feeling well, she has peace of mind that someone is right there to take care of her. Talk to our 24-hour home care specialist to learn more about the services and prices.
Sources: https://professional.heart.org/en/science-news/-/media/B30CB2FA4E65480193A4E902BBAED88C.ashx
https://emedicine.medscape.com/article/150215-overview
If you or an aging loved one are considering 24-Hour Home Care Services in the Leawood KS area, please contact the caring staff at Elder Care of Kansas City, today. Proudly serving Jackson, Clay, Platte, and Cass Counties in Missouri as well as Johnson and Wyandotte Counties in Kansas for over 30 years. Call us at 816-333-3322.
Latest posts by Kevin Edwards
(see all)