Yummy Soup To Try This Fall
Soup can be an excellent choice for seniors in the fall for several reasons. It's easy to digest, which can be particularly important for older individuals with sensitive digestive systems, and it provides a warm and comforting option during cooler weather, making it a soothing and enjoyable meal. Additionally, soups can be a versatile way to incorporate various nutritious ingredients like vegetables, lean proteins, and whole grains, which can help seniors maintain a balanced and healthful diet. If you are looking for easy soups to make as an elder care provider or adult child caring for a loved one, here are some ideas to get you started.
Vegetable Soup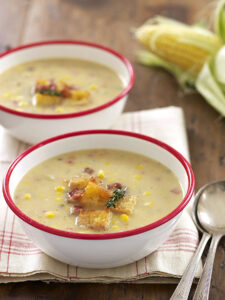 If your loved one has a lot of vegetables that need to be used, it's time to throw them in the crockpot with broth and seasoning. Vegetable soup can be sweet, spicy, or salty. It is so versatile that you have tons of options when it comes to flavor and even which vegetables you add to it. Vegetable soup is a healthy choice for seniors because it provides a wealth of essential vitamins, minerals, and dietary fiber while often being low in calories and saturated fat. The combination of vegetables in a soup can support immune function, aid digestion, and contribute to overall well-being, making it a nutritious and delicious option for aging individuals.
Make Butternut Squash Soup with Elder Care Help
This squash is sweet and nutty, making it the perfect thing for a soup. Not only is it super tasty, it is full of nutrients that your senior loved one needs to stay healthy. Butternut squash is a healthy choice for seniors because it's rich in essential nutrients, including vitamins A and C, which can support eye health and the immune system. It's also a good source of dietary fiber, which aids digestion and helps maintain healthy cholesterol levels, making it a nutritious addition to a senior's diet. The best part of this soup is that elder care or whoever is helping your loved one meal prep can make this in under an hour, and it can be saved for the entire week.
Tomato Soup
Although tomato season is over, you can easily grab fresh tomatoes at the store and make your tomato soup. Your loved one may have had a garden and saved their tomatoes by freezing them. No matter what way you get your tomatoes, this can be a good fall soup that your senior loved one can enjoy with ease. This is not hard to make. Roast the tomatoes, blend them up, and put it in a pot on the stove with some broth or cream. You can eat this with a side salad or a grilled cheese sandwich. This doesn't seem like a lot of food, but it will be filling for your seniors, and it can be made in bulk!
Pumpkin Soup
If your loved one likes butternut squash, they may love pumpkin soup! Pumpkin is naturally sweet, and you can add cream and seasoning to play up the flavor. As this soup cooks, their entire home will smell like fall. The best thing about eating this soup is that it is fantastic for immune health due to the high quantities of vitamins A and C.
If you or an aging loved one are considering Elder Care Services in the Kansas City MO area, please contact the caring staff at Elder Care of Kansas City, today. Proudly serving Jackson, Clay, Platte, and Cass Counties in Missouri as well as Johnson and Wyandotte Counties in Kansas for over 30 years. Call us at 816-333-3322.
Latest posts by Kevin Edwards
(see all)