Home Care: The Best Shape Up Tips Just for Seniors
January is National Shape Up Month, and after a long holiday season of overindulging in sweet treats and holiday foods most people are ready to get healthy again. It's a great time for seniors to make some healthy goals for the rest of the year and take steps to start losing weight if they are overweight. But even seniors who aren't overweight can benefit from shaping up and getting stronger. Seniors have a specific set of needs when it comes to getting in shape because most seniors have underlying health conditions that can affect how seniors can exercise and what they can eat. With the assistance of their home care aides they can accomplish there goals.
The best things that seniors, with the help of their home care aides, can do if they want to shape up this year are:
Set Realistic Goals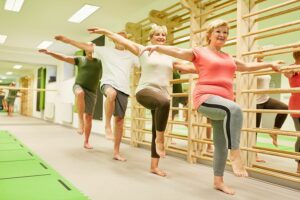 Getting in shape is a good goals but it's not specific enough to really be helpful. The best goals are small, measurable goals that are realistic for your senior loved one's current state of health. Instead of setting goals like "run a marathon" seniors should be setting goals like "walk around the block" or "eat vegetables at every meal". When the goals are realistic it's easier to meet them and when seniors meet their goals it will motivate them to keep going on their journey to get in shape.
Talk To A Professional
Getting in shape isn't easy and it's ok to get professional help. In fact, talking to professionals is a great thing to do. Seniors can benefit quite a bit from talking to a professional nutritionist or personal trainer as long as they specialize in the needs of seniors. Professionals will be able to design programs just for your senior loved one that take into account their unique needs. Even professional home care providers can help your senior loved one get in shape by giving your senior parent the encouragement and support they need to make smart choices every day. Home care providers can also help seniors prepare healthy meals and stock up on the healthy foods they should be eating.
Get Help From Family And Friends
Home care providers and other professionals are great, but seniors will still need the support of family and friends to get in shape. You can support your senior loved one by dropping by to share healthy meals with them, or going for a walk with them after dinner. You can also support them by trying a new hobby or activity that they have always wanted to try with them. You may even want to join a gym together or take some type of fitness class like a yoga class or a water aerobics class.
Get Moving In Any Way Possible
Even if seniors aren't able to do a lot of exercise they should be getting up and moving each day. Any movement will help them get in shape. Walking up and down the stairs a few times, or walking back and forth from the kitchen to the living room, or even just walking to the door and back are all good for seniors. And the more they move the more they will be able to move. Movement builds momentum that they can use to get in shape.
If you or an aging loved-one are considering

Home Care Services in the Shawnee KS

area, please contact the caring staff at Elder Care of Kansas City, today. Proudly serving Jackson, Clay, Platte and Cass Counties in Missouri as well as Johnson and Wyandotte Counties in Kansas for over 30 years. Call us at

816-333-3322

.
Latest posts by Kevin Edwards
(see all)